Ref:
Date:
Location:
Photographer:
Ref:
Date:
Location:
Photographer:
news
June 2017
After a quiet Spring in the studio, concentrating on painting, I am exhibiting in two venues during June.
MAKESPACE OPEN STUDIOS -
PV FRIDAY 9th JUNE, 6pm-10pm - SATURDAY 10th AND SUNDAY 11TH 11am-6pm
I am very pleased have taken up temporary residence in Studio 33 for the Makespace Open Studios while artist Laurence Causse- Parsley is away.
There's a video peek into the studio on my Instagram and Twitter feeds - just follow the links
here
. Otherwise visit @alisonlumbartist in the Instagram app or @alisonfineart on Twitter.
Makespace is home to over sixty artists, artisans and creative businesses: painters, sculptors, designers, goldsmiths, photographers, choreographers, music producers, ceramicists and more.
There is a large gallery space, a café and all manner of entertainment at the PV and over the weekend.
You can find full details here:
makespacestudios
Makespace is close to Lambeth North station on the Bakerloo line.
UPSTAIRS GALLERY, BERHAMSTED
I am also delighted to say that the
Upstairs Gallery
in Berkhamsted have several of my prints in their Open exhibition 'Summer in the City', including my triptych THAT SUMMER (below). The exhibition continues until 24th June.
November 2016
FORTHCOMING EXHIBITIONS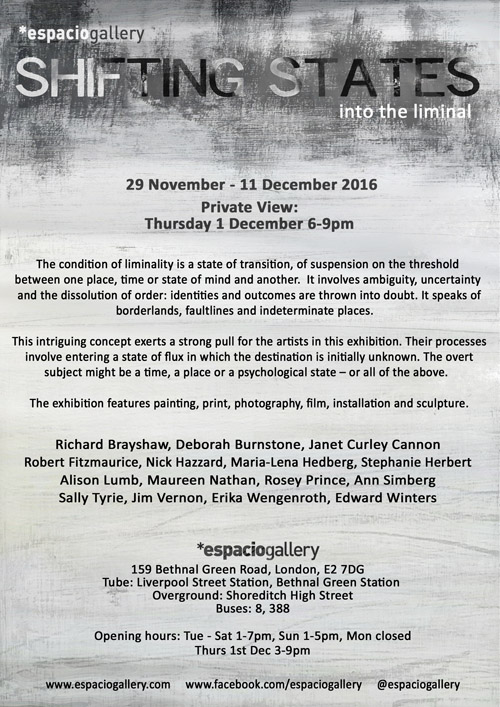 SHIFTING STATES
is a group exhibition inspired by the concept of the liminal. Alison and fellow artist Erika Wengenroth have invited Espacio Gallery members and guest artists to explore this wide-ranging and intriguing theme.
Full details
here
FURTHER NEWS
This new print, DARK AND DEEP, is now available via the
printsolo
website in their new Christmas mini print gallery.