Ref:
Date:
Location:
Photographer:
Ref:
Date:
Location:
Photographer:
news
FORTHCOMING EXHIBITION - UNCERTAIN TERRITORY
From April 10th to April 28th, I will be showing a broad range of new work at the Upstairs Gallery, Berkhamsted, Hertfordshire, in an exhibition with artists Helen Campbell and Laurence Causse-Parsley.
For a while I have been interested in liminal states, times and place – when we step outside the known and stable world in to a state of flux or are poised on a threshold. In this exhibition we explore those states of mind and places in which daily life is held in suspension: daydreamers, sleepers, cafes, coastal landscapes and abstract images all appear.
I am showing new and recent paintings, screen prints, inkjet prints and cyanotypes.
BREATHER, oil on canvas 50cm x50cm
SPRING, limited edition inkjet print 20cm x 20cm
There will be two special events taking place on Saturday afternoons.
Saturday 14th April, from 1pm-3pm
MEET THE ARTISTS All three artists will be on hand to say hello and have an informal chat and there will be some light refreshments.
Saturday 21st April, at 1.30pm and again at 2.30pm
ARTISTS' TALKS The three artists will talk briefly in turn about a specific aspect of their work – their interests, themes and/or processes. There will be some process materials on display to complement the talks.
WINTER WALK cyanotype.
The Upstairs Gallery is in Berkhamsted, in the Chiltern Hills. A visit to the gallery can easily be combined with a walk around this attractive country town with its canals, galleries, shops and cafés. If travelling by car, a visit could also include a walk around the stunning woods and hills of the National Trust's
Ashridge Estate
a short drive away.
October 2017
MY WORK TO BE ACQUIRED BY THE VICTORIA & ALBERT MUSEUM
Two of my prints have been selected for the forthcoming PRINT CITY exhibition in London featuring work by members of the UK Printmakers' Council. The exhibition has two parts – one is 'Print City' featuring work on an urban theme and I have had one of my earlier digital prints accepted into this part of the show.
Alongside will be an exhibition of mini-prints, which as well as being shown at the Morley Gallery, will be gathered into a box set which the V & A will acquire for their collection and archive. Members were invited to make an edition of 10 prints to a specific size to be submitted to a jury, and my new screenprint
PLAY
will be included in the set.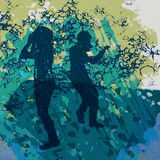 I am delighted to have been included alongside so many fine printmakers.
The exhibition dates are 31st October – 11th November 2017, and the PV is Wednesday 1st November 6pm-8pm.
See the flier for more details.
+++++++